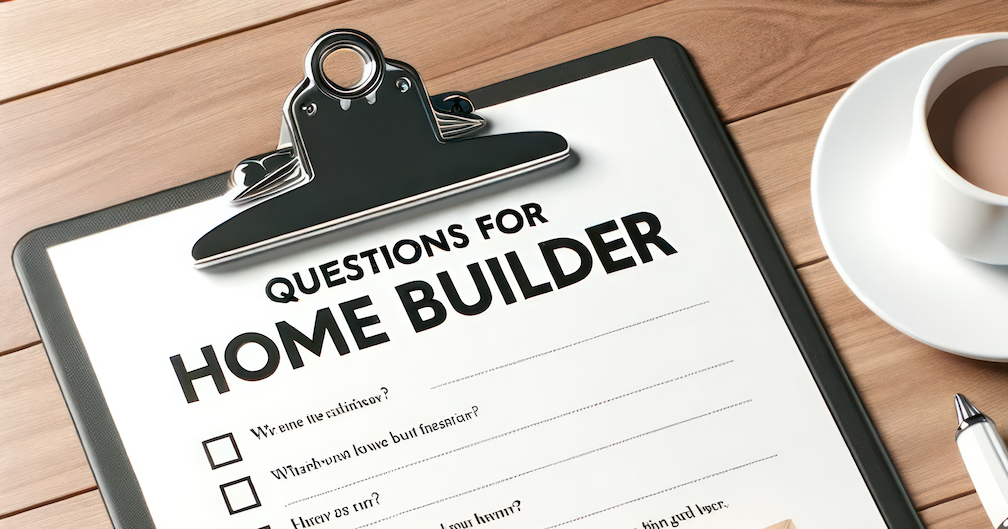 Questions To Ask A Home Builder: Your Guide to Choosing Right in Hampstead, NC

KEY TAKEAWAY TABLE:
| | | |
| --- | --- | --- |
| Question Topic | What to Focus On | Link |
| Local Expertise | Understanding the builder's regional knowledge. | About Us |
| Coastal Lifestyle Incorporation | How local climate & lifestyle are integrated in designs. | Features |
| Builder's Experience | Leveraging long-term residency for better home building. | Our Gallery |

Understanding the Builder's Local Expertise
When it comes to home building, local expertise plays a pivotal role in ensuring that the house is not only beautiful but also functional and integrated into the community's lifestyle.
Let's delve into how Reeves Custom Homes leverages its deep-rooted understanding of Hampstead, NC.

1) How does your long-term residency in Hampstead, NC contribute to your home-building expertise?
Having a long-term residency in Hampstead, NC, provides a unique perspective on the local climate, culture, and community needs, which is crucial for creating homes that residents will love.

2) How do you incorporate the local climate and coastal lifestyle into your home designs?
Climate-Adaptive Designs: Creating designs that leverage the mild climate, enabling residents to enjoy outdoor activities year-round.
Coastal Lifestyle Integration: Incorporating elements that resonate with the coastal lifestyle, like large windows for natural light, open spaces, and outdoor living areas.



Exploring Customization Options
The journey to your dream home starts with a blank canvas. Let's explore how Reeves Custom Homes facilitates the customization process.

3) How do you help clients design their unique dream home, especially if they don't have any plans yet?
At Reeves Custom Homes, the team is well-versed in guiding clients through the design process, even when starting from scratch. They offer a range of architectural styles to suit different tastes and lifestyles.

4) Can you share examples of different architectural styles like modern farmhouses and coastal classics you've built?
Visit the Our Gallery page to explore various architectural styles crafted to perfection by the Reeves Custom Homes team.

Table: Customization Summary
| | | |
| --- | --- | --- |
| Feature | Description | Link |
| Design Process | Guiding clients from concept to reality | Design Guide |
| Architectural Styles | Modern Farmhouses, Coastal Classics, etc | Gallery |

Ensuring Quality and Longevity
Quality isn't just about aesthetics; it's about creating homes that stand the test of time.

5) What measures do you take to ensure the homes are built to last?
Quality Materials: Utilizing only the finest materials to ensure durability and longevity.
Skilled Craftsmanship: Employing skilled craftsmen who uphold the highest standards of quality.
6) How do you maintain a high level of craftsmanship throughout the construction process?
Reeves Custom Homes maintains a rigorous standard of craftsmanship, which can be seen in the detailed features of every home, ensuring each project is executed to perfection.



Navigating the Building Process
The building process can be intricate, but with the right guidance, it becomes a journey worth embarking on.

7) How do you guide clients through the building process from start to finish?
Reeves Custom Homes ensures a seamless building process from conception to completion, offering step-by-step guidance to clients.

8) How do you handle permitting and inspections to ensure a hassle-free experience for the client?
Permit Handling: Taking care of all necessary permits to ensure compliance with local regulations.
Inspection Coordination: Coordinating with local authorities for timely inspections, ensuring a smooth building process.

Table: Building Process Summary
| | | |
| --- | --- | --- |
| Aspect | Description | Link |
| Guidance | Step-by-step support through the process | Building Tips |
| Permit and Inspection | Hassle-free handling of legal compliance | Contact Us |

Communicating Effectively
Effective communication is the backbone of a successful home-building journey.

9) How do you ensure constant communication and transparency throughout the home-building journey?
At Reeves Custom Homes, a transparent communication channel is maintained to keep clients informed at every stage.

10) What steps do you take to address any concerns or requests promptly?
Prompt Responses: Ensuring timely responses to any inquiries or concerns.
Regular Updates: Providing regular updates on the project's progress.


Engaging with the Local Community
Building a home goes beyond construction; it's about becoming a part of a community.

11) How do you collaborate with local businesses for sourcing quality materials and services?
Leveraging relationships with local businesses to provide quality materials and services is a key part of the process.

12) Can you share experiences of building in premier communities within Hampstead, NC?
Sharing experiences can be viewed on the blog, shedding light on building in premier Hampstead communities.

Taking the Next Step Towards Your Dream Home
Engaging with a trusted home builder like Reeves Custom Homes, known for its local expertise and community engagement, can make your home-building journey a delightful experience.
Ready to discuss your dream home? Reach out to Reeves Custom Homes through their contact page or call them directly at 910-279-0173.
Your dream home in Hampstead, NC, is just a conversation away.